The Ashigaru Musketeer
is the Japanese version of a Musketeer. The Ashigaru has high attack and HP, as well as a slighty higher cost.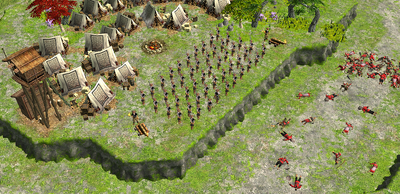 Type: Infantry
, Heavy Infantry

, Gunpowder Unit, Ranged Infantry

Ashigaru Musketeer

Disciplined Ashigaru

Honored Ashigaru

Exalted Ashigaru

Fully Upgraded Ashigaru (With Daimyos, Shogun, and all Ashigaru card upgrades)
 Strategy
Edit
The Ashigaru Musketeer is considered OverPowered by most online players, as for only a moderate cost increase they receive higher attack and higher HP, as well as having higher speed making it more difficult for Long-Range infantry such as Crossbowmen to Hit and Run Ashigaru. Especially combined with the Naginata Rider, it is a glorified Musket+Hussar Combination, as Ashigaru counter both Musketeers, Cavalry and to an extent Skirmishers. This is further helped by numerous Upgrades for Ashigaru Musketeers early game along with the strong Shrine Boom for a fast growing economy.