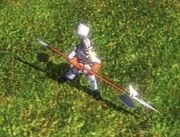 The Halberdier is a heavy infantry unit available to the Dutch, French, Portuguese and Russian civilizations. Armed with a long axe, called a halberd, the Halberdier always attacks in melee, unless it's sieging a building.
Base statistics
Edit
Type: Hand Infantry, Heavy Infantry, Infantry
Cost: 50 food, 70 coin, 1 population
Build XP: 12
Kill XP: 12
Hitpoints: 200
Resistance: 10% melee
Melee damage: 25; 2x vs cavalry; 1.3x versus light infantry 1.5 ROF
Siege damage: 32; 6 range; 3.0 ROF
Speed: 4
Russian Halberdiers start with -20% hitpoints and damage, and -25% cost
The Dutch Halberdier can be upgraded to royal guard status, namely Nassauer, which give them more hitpoints and damage
The Halberdier can be upgraded at the Barracks, Church, Arsenal, or via the Home City
Ad blocker interference detected!
Wikia is a free-to-use site that makes money from advertising. We have a modified experience for viewers using ad blockers

Wikia is not accessible if you've made further modifications. Remove the custom ad blocker rule(s) and the page will load as expected.